Jo's Butterfly Lampshade
Jo Hewlet started to design and make her first mould lampshade at the end of an Adult Education course in Christchurch, then enrolled on one of our studio courses for a few months till she was confident of working on her own at home. She has since made a speciality of using "found" objects - lenses, beach glass, agate slices and other items in similar shades for friends and family. The large blue globs were bought on a holiday in Spain and were just sufficient to form the bottom border.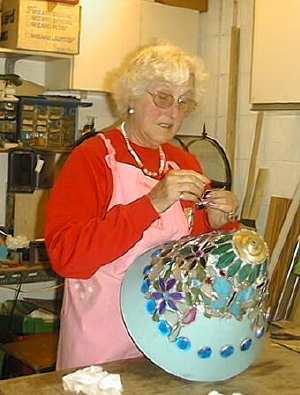 * Gifts and Suncatchers * Mirrors * Lampshades * Window/Door panels * Unusual Projects *
---
New : Home : Shop : Studio : Tuition : Links : Map : Search : Crafts'R'Us
. . . . Stained Glass Gallery : Etched Glass Gallery : Students Gallery . . . .
---
© 2000 Bournemouth Stained Glass. All rights reserved Last updated on : 4th February, 2000 Webmaster : Elizabeth E Law (contact at : elizabeth@stainedglass.co.uk)